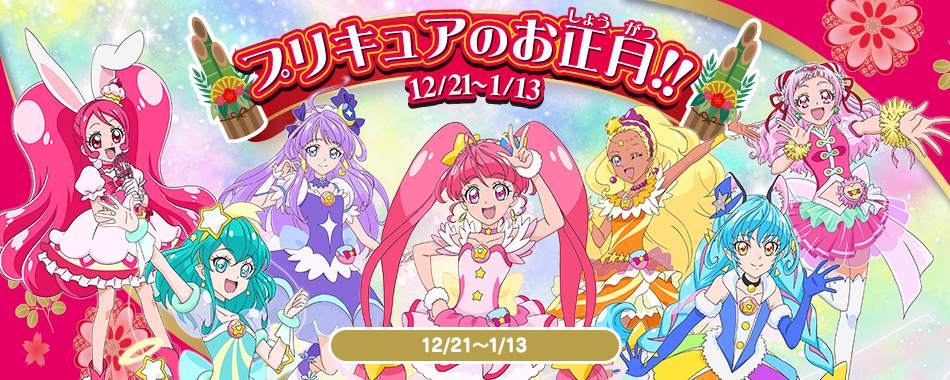 Let's experience together with the characters from "Pretty Cure" the traditional Japanese New Year!
With them as your guide, children can both experience the traditional New Year's events and enjoy playing with their favorite characters. Pretty Cure characters such as Cure Star, Cure Yell and Cure Whip, will appear on stage, and will challenge all the guests at making the traditional Mochi rice cake and to do the lion dance. There will also be a corner where you can play Karuta (traditional Japanese card game) or do the Hatsumode (first Temple visit of the Year), so your day with us will be full of things to do!

New Year stage schedule:
①At 11:30: Reach up to Space! Kite flying Contest
②At 12:30: Let's-la Mochitsuki!
③At 14:30: HUG! Lion Dance
④At 15:30: Twinkle Twinkle New Year's games!

– Watch Tower Rest Area in Plaza We will give our guests lucky charms for New Year. Shake hands with Cure Yell and get a prize!
● January 1st to the 3rd "Ozoni"
● January 12th to the 14th "Zenzai"

Limited for each day to the first 100 guests. Numbered tickets will be distributed on the first floor of the Padios Building from 9:30am. The event will be at the Plaza from 10:30am.