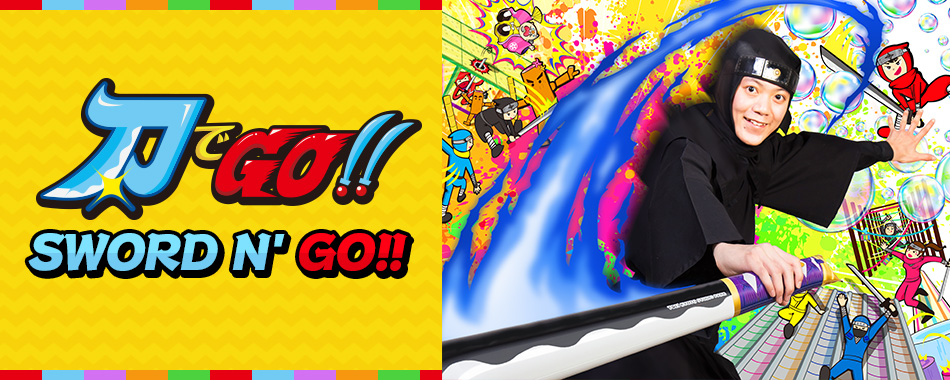 A new attraction featuring the samurai sword, "SWORD N' GO" has opened in the Toei Kyoto Studio Park.
This is a great chance to try an athletic obstacle course bearing a sword.
The course is full of interesting tricky obstacles for ninja trainings such as "Stepping Across on Stubs," "Going through the Noisemaker Ropes," "Hiding under the Floor," and "Sliding Down from the Roof."
Defeat the wooden figures (your enemies) appearing along the course here and there and finally, crush countless soap bubbles surrounding you from all directions with the sword.
The sword used in this attraction is made with plastic and is completely safe for small children.
Unlike virtual computer games, you will experience such an exhilarating feeling hitting the target with the sword.
Experience and enjoy "SWORD N' GO" with your family and friends!
Place
Attraction Area
Admission fee (tax included)
Adults (Junior High School students and up)
¥500
Children (3 - Elementary School students)
*Children under 3 years old are not allowed to enter.
*Preschoolers are required to enter with parent.
¥400
Field trip students
¥300

This attraction includes athletic-like elements.
It is strongly recommended to wear proper clothes and shoes, such as trousers and sneakers, when trying it out.
To ensure personal safety and security, those who fit any of the following categories must not enter this attraction:
Those in a wheelchair or with crutches
Those who are pregnant
A person carrying or under the influence of alcohol
A person who is feeling unwell
A person dressed in a costume including the costumes rented at the Costume Rental Shop in the park (except those wearing the ninja costumes rented at the Ninja Costume Rental Shop in the park)
Children under 3 years old
Children under 6 years old without an accompanying person over 16 years old
Anyone who ignores instructions provided by our staff